Blog Archives
A fitting is used in pipe plumbing systems to connect straight pipe or tubing sections, to adapt to different sizes or shapes, and for other purposes, such as regulating or measuring fluid flow. The term plumbing is generally used to describe conveyance of water, gas, or liquid waste in ordinary domestic or commercial environments, whereas piping is often used to describe high-performance (e.g. high pressure, high flow, high temperature, hazardous materials) conveyance of fluids in specialized applications. The term tubing is sometimes used for lighter-weight piping, especially types that are flexible enough to be supplied in coiled form. [caption id="attachment_342" align="alignnone" width="150"] Bushing Pipe[/caption] [caption id="attachment_343" align="alignnone" width="150"] Coupling[/caption] [caption id="attachment_344" align="alignnone" width="150"] Cross Fitting[/caption] [caption id="attachment_345" align="alignnone" width="150"] Elbow[/caption] [caption id="attachment_346" align="alignnone" width="150"] Equal ...
An coil is formed when a conductor (usually an insulated solid copper wire) is wound around a core or form to create an inductor or electromagnet. When electricity is passed through a coil, it generates a magnetic field. One loop of wire is usually referred to as a turn or a winding, and a coil consists of one or more turns. For use in an electronic circuit, electrical connection terminals called taps are often connected to a coil. Coils are often coated with varnish or wrapped with insulating tape to provide additional insulation and secure them in place. A completed coil assembly with one or more set of coils and taps is often called the windings. [caption id="attachment_330" align="alignnone" width="150"] Cold ...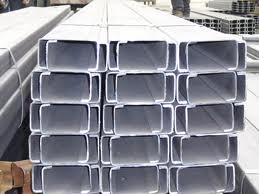 Structural steel is steel construction material, a profile, formed with a specific shape or cross section and certain standards of chemical composition and mechanical properties. Structural steel shape, size, composition, strength, storage, etc., is regulated in most industrialized countries. Characteristics - Structural steel differs from concrete in its attributed compressive strength as well as tensile strength. Strength - Having high strength, stiffness, toughness, and ductile properties, structural steel is one of the most commonly used materials in commercial and industrial building construction. Constructability - Structural steel can be developed into nearly any shape, which are either bolted or welded together in construction. Structural steel can be erected as soon as the materials are delivered on site, whereas concrete must be cured at least ...
← Older